When anyone endeavors to tackle a remodeling project, one of the main things to focus on is the bathroom. This is where you relax and unwind after a stressful day, after all. It is a room that is not only useful, but also necessary. But how do you balance your budget when it comes to bathroom remodeling, and how do you determine what fixtures – like the bathtub – are worth your money, especially in the long run? Advantage Contracting is here to help you learn how to choose a bathtub that perfectly suits your taste. Scroll below for a few insider tips on the top bathtubs that are worth the price when it comes to remodeling your bathroom.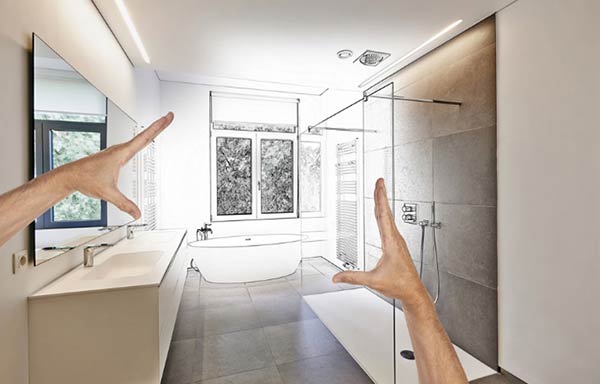 Alcove Bathtubs
If you want to keep it simple, alcove bathtubs are your best choice. You can find this popular bathtub style in most American homes, since it is simple, affordable, and is best for shower and bathtub combinations. Most of these bathtubs are only finished on one side; corner bathtubs are finished on two sides and are another type of alcove bathtub you can consider for your bathroom remodel.
Drop-In Bathtubs
Drop-in bathtubs are similar to alcove bathtubs, but the difference is that the tub is a type of platform and is supported by a deck. If you prefer to have a luxury bathtub when compared to alcove bathtubs, drop-in bathtubs are a good alternative. This is because with the deck, you can customize it with different materials to best suit your personal tastes, while with alcove bathtubs, you only get a choice in the bathtub itself. The best drop-in bathtubs are the perfect combination of luxury and comfort.
Freestanding Bathtubs
Freestanding bathtubs are just what they sound like – instead of hugging the wall, freestanding bathtubs are placed by themselves directly on the floor of the bathroom or up on a pedestal. Freestanding bathtubs are the best choice for people who like to make a statement and don't just view the bathroom as just a functional room in their home. Because freestanding bathtubs are usually a statement piece as well, clawfoot tubs are very popular, since they are a type of freestanding bathtub that has flair. Like with drop-in bathtubs, freestanding bathtubs can also be made in a variety of materials and styles, which enables you to get a bathtub that is unique to your home.
Soaking Bathtubs
If you're one to really enjoy your time in the bath, you definitely have to choose a soaking bathtub. True soaking bathtubs are at least 20 inches deep and have good overflow valves. Soaking bathtubs also come in a variety of materials and sizes. If you really want to splurge and give yourself a treat in the bathroom, you can add whirlpool or other spa features to your soaking bathtub for the ultimate pampering experience. However, if you're on a bathtub remodeling budget, spending money on a decent soaking bathtub should be good enough to enhance your bathroom relaxation time.
Whirlpool Bathtubs
With whirlpool bathtubs, either water or air jets are used to propel water in a forceful way. This can be used as either a relaxation or massage tool. If you or other loved ones who live with you have any type of muscle injury or disease, or have a lot of daily stress, whirlpool bathtubs can be a wise investment. This can save on costly trips to the doctor or massage therapist, and you get to enjoy the benefits of a whirlpool bathtub conveniently, right in your own home. Although the cost of pump and heating of the water can make a significant enough of a difference in your utilities bill, this is still a type of bathtub that's worth the price, especially if you need it for therapeutic reasons.
Walk-In Bathtubs
Walk-in bathtubs are well worth the money when you or someone in your household has mobility issues. For people with disabilities and the elderly, getting into a regular bathtub is a hard and sometimes hazardous task. Walk-in bathtubs allow for a small panel of one of the walls to be opened so there's no need for the user to take larger steps and risk a slip. Considering that investing in such a bathtub can eliminate the risk of fall and costly hospital bills, we'd say that walk-in bathtubs are worth the price tags, even if they are a bit pricey sometimes.
Experienced Bathroom Remodeling Contractors in NJ
With so many modern options available on the market for bathtubs, it's best to take a look around before you commit to a particular one, especially since there are many styles and customizations to consider. When you've decided on the top bathtub for your home, get in touch with Advantage Contracting and we can assist you in the entire remodeling process, from design to execution. If you're ready to start your bathroom remodeling, get in touch with us!
Get expert project management services today: (973) 696-0333