When it comes to bathroom remodeling, most people are quick to kick-start this project, oftentimes overlooking important considerations. In particular, the design of the bathroom remodel is of the utmost importance and is not the type of project to rush into. Let's take a quick look at what to consider when remodeling a bathroom.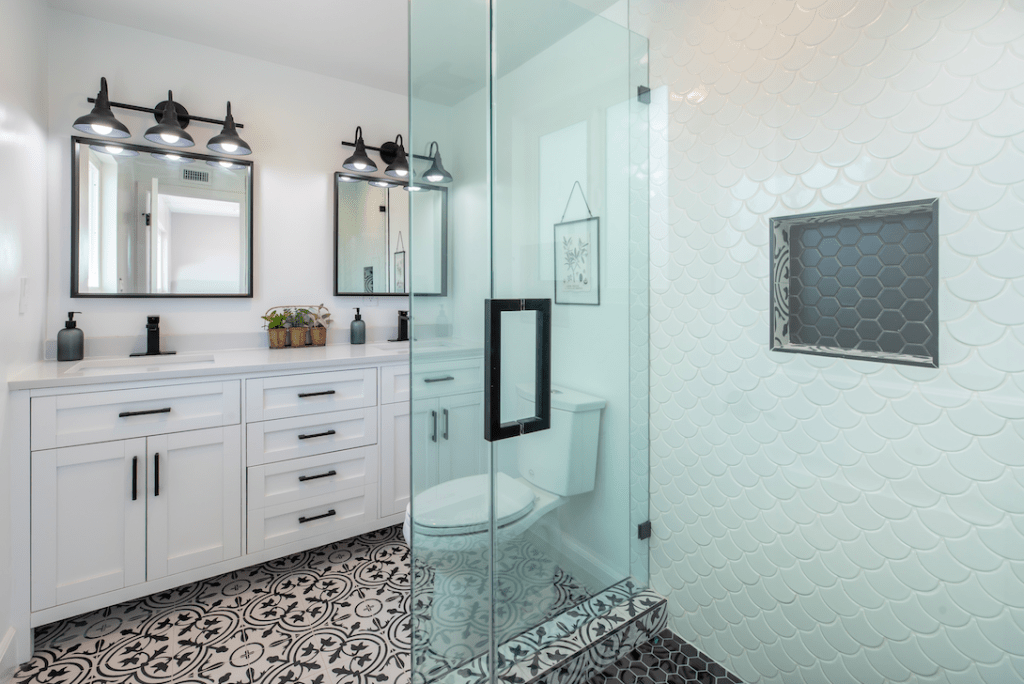 Bathroom Remodel Design Considerations
There's a myriad of interior design considerations to make from paint color to tiles to style of bathtub. However, it's important to think about the big picture first such as heated floor tiles, a completely new layout, or a jacuzzi-style tub. Figure out exactly what you want from your new bathroom in terms of general style, aesthetics and layout then move on to the nuanced details. Let's take a look at specific design considerations for bathroom features below:
Double or Single Vanity
Take a moment to think about how many people will use the bathroom. Do you have a bigger family that will need to use the bathroom at the same time to do smaller things like brushing teeth or doing makeup? If that is the case, vanity size is definitely something you should consider. Having a double vanity will provide your family with the space they need. Think through how you will use the bathroom and make sure it is designed appropriately.
Visible or Concealed Plumbing
Take a moment to consider whether you would like the plumbing, framing, and electrical visible or concealed. Exposed plumbing lines create more of a vintage or industrial aesthetic. If you prefer that those lines be concealed, consider hiding them behind something such as the sink's pedestal.
Shower Type
Does your family use the shower or the tub more? This will allow you to decide if you want a shower-tub combo or not. Also, think about storage in the shower. Do you want a shelf to put products on inside the shower? Additionally, think long and hard about whether it would be ideal to add a ¾" supply line to the shower or tub for an improved and more consistent flow of water. Though this approach won't save water, having great water pressure will certainly prove luxurious.
Curbless Showers
Curbless showers certainly look cool yet the floor must be elevated to the point that the tile pitches to the drain for water to flow down and away from your bathroom flooring. Consider transitions into the bathroom when planning the thickness of the floor. If anyone in your home uses a wheelchair, the proper accommodations have to be planned out before the start of construction.
Sink Placement
If your bathroom is fairly small and you would like it to feel spacious, the addition of a corner sink will certainly help. Eliminate the conventional vanity, opt for a corner sink and you will open up that much more space in your bathroom. Furthermore, corner sinks are on-trend, enhance bathroom traffic flow, and make it that much easier to sell the home.
Sink Height
Though the height of the sink might not seem that important, it matters a great deal. The bathroom sink is used with regularity so it has to be just right in terms of height and design. If the sink is excessively tall or short, it will prove problematic. Find a happy medium to suit everyone in your family and you won't have any regrets moving forward.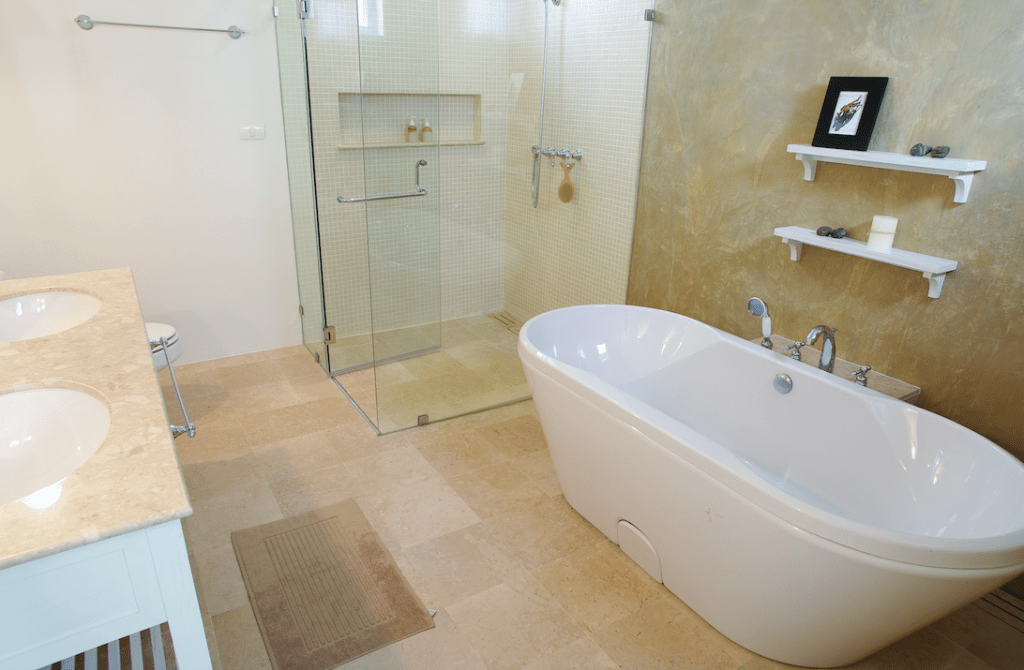 Key Takeaways
The small stuff matters a great deal in your bathroom remodel
You need a team of trustworthy bathroom remodeling specialists to bring out the best in this important space
Be mindful of spacing, aesthetics, and walkways when planning your bathroom remodel
Make sure a redesign plan is in place before moving forward with bathroom design ideas
Advantage Contracting is on Your Side
Our bathroom remodeling contractors are here to bring out the best in your bathroom. Lean on us for your remodel and you will be ecstatic with the result. You can contact our bathroom remodeling specialists by dialing (973) 696-0333. If you prefer to reach us online to find out more about bathroom design considerations, fill out our convenient online contact form and we will be in touch.Design Considerations to Make When Remodeling Your Bathroom