Interested in remodeling a bathroom in your home? Before you roll up your sleeves and jump straight into the project, it's important you take the time to answer some simple questions about your wants, needs, budget, etc. Doing so before you get too deep into the remodel will help minimize stress and save you significant amounts of time and money.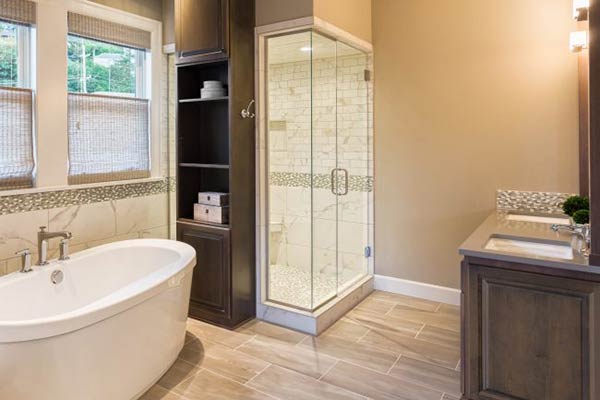 Here Are Five Questions To Ask Yourself Before Getting Started
First Thing's First, Why Do You Want to Remodel?
Take a moment to clearly define your goals for the remodel. Is your current bathroom inefficient or outdated? Was there a plumbing emergency or some other disaster that has resulted in the need for a remodel? What are the main aspects you want to change or upgrade? Take as much time as you need to pinpoint exactly why you're taking on this project and what all needs to change in order for you to feel not just OK with your bathroom, but utterly in love with it.
This may sound tedious or overly nit-picky, but having this list of things you want to change (e.g. the countertop is too low/high, there aren't enough electrical outlets, etc.) will be of tremendous help to both you and the contractors you hire.
What Does Your Budget Look Like?
Just as with any home improvement project, it's important you know precisely how much you're willing and able to spend on a bathroom remodel. The average master bathroom remodel costs about $20,000. Luxurious remodels could easily cost as much as $50,000.1, 2 Needless to say, you should have a realistic budget in mind to ensure you and the contractors you work with don't go overboard.
What Does Your Dream Bathroom Look Like?
Now is when things start to get really fun! Flip through some high-end home and/or remodeling magazines, get on Pinterest or do a simple Google search online to find images of bathrooms or features you love. Don't overthink it or ask yourself why you like something, just bookmark, print or save any and all pictures you like. Having a folder of images that inspire you and illustrate your various wants and needs will be extremely helpful to your contractors once you've reached the design phase.
Is it Worth Your Investment?
This is a question you need to spend some serious time researching. How much money have you already invested into your house? Will your "dream bathroom" fit in with the vibe and expectations of other homes in the neighborhood? This is especially important to consider if you plan on moving in the next five or 10 years. Will it pay off to invest more money than you already have in your home? In addition to determining whether it's worth the financial investment.
Which Contractor Should You Choose?
The answer to this question is simple: if you live in the Wayne, New Jersey area, choose the friendly, experienced bathroom remodeling experts at Advantage Contracting! Our team takes tremendous pride in being local homeowners' one-stop-shop for any and all of their remodeling needs, and would love the opportunity to help bring your dream bathroom to life.
Contact us online to schedule a free estimate or click here to read more about our comprehensive bathroom remodeling services.
1 http://www.improvenet.com/a/diy-bathroom-remodel-planning
2 http://www.homeadvisor.com/r/where-money-is-spent-bathroom-remodels/#.WIAhXVMrJQI
3 http://www.athoughtfulplaceblog.com/10-questions-to-ask-before-starting/