There comes a time when your kitchen doesn't feel adequate anymore, and that's ok. Instead of taking a drastic measure such as moving homes to get your perfect kitchen, consider remodelling your kitchen instead. Although hiring kitchen remodelers may seem exorbitant when it comes to expenses, the end result is definitely worth all the money you invest into your kitchen remodel. Advantage Contracting has been providing kitchen remodel services to North Wayne and the surrounding areas for over 15 years and we are the authorities you can trust when we say kitchen remodels are worth every penny spent. Here's why you'll get a good return on remodelling your kitchen.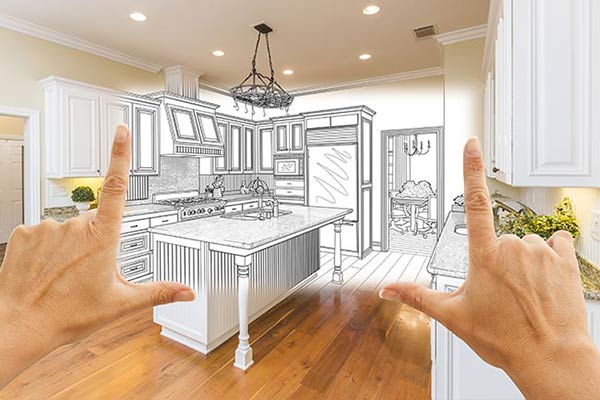 Add Value To Your Property
Whether you want to sell your home soon or in the distant future, it's always a good idea to add more features to it. Not only does this improve your quality of life, but it also raises the value of your home. When the time comes to sell your home, you'll be able to get more out of the buyers due to a more updated and luxurious kitchen. In the meantime, you can enjoy cooking in your amazing kitchen on a daily basis!
Get Updated Appliances
When you moved in, chances are, the appliances were already there so you didn't have to buy any yourself. Although this is convenient, it may mean that your appliances are old, worn out, and not suited for your personal style. Remodelling doesn't just involve tearing up and reshaping your kitchen — it means replacing your old appliances with newer ones. What was once a drab kitchen with so-so appliances can be uplifted into a dream kitchen with appliances that have the latest bells and whistles on them. In addition to getting the latest technology, you also have the chance to redo your kitchen and have everything match for the best aesthetics.
Replacing your old appliances also means that you can save more on your utility bills. Older models of ovens, stoves, and refrigerators can be huge guzzlers of electricity. You may be throwing away significant amounts of money each month due to this and not even know it. By investing in new and durable energy efficient appliances, you can cut down your energy bills by a noticeable amount and actually save money in the long-run. If you're a person that's also environmentally conscious, you'll be glad to know that by purchasing energy efficient appliances, you'll also cut down on your carbon footprint. Even though you initially spend a bit of money, when you look at things on a long-term basis, it's an all-around win-win situation for you.
Accommodate Your Family's Style
What may have originally been a beautiful floorplan may not necessarily translate to a good living style for you and your loved ones. Everyone has their own cooking style, and what worked for the previous homeowner may be all wrong for you. If this happens, there's no need to panic. Kitchen remodels are commonly done and it should be no problem for you to give your kitchen a facelift so you have an easier time manoeuvring yourself in it. If you want to open up your kitchen and utilise all of your space, Advantage Contracting knows exactly how to do that for you.
Also, the majority of homes are made with the intention of accommodating only able-bodied people. If you or one of your family members has special needs, remodelling your kitchen can make that area much more accessible. Whether it's accommodating a child in a wheelchair or an elderly member of your family, kitchen remodels will make life much easier for everyone.
Spend Time On A Fulfilling Hobby
Although it's hard work, it can be very satisfying to tackle a home improvement project and successfully complete it. From just making the remodelling plans to handling every aspect of the job, at the end of the day, you'll feel accomplished to have taken on a project that many others don't dare embark on. Even if you don't get involved in the grunt work, you can be proud of transforming your home into your own.
Renovate Your Kitchen Beautifully
In the end, kitchen remodels only have a plethora of benefits and no real disadvantages at all. Of course, if you don't have the financial freedom to take on a kitchen remodel, you should wait until you're in a more financially secure position. However, if you are in a financial position to proceed with a kitchen remodel and you're ready to see what it can do for you and your family, give Advantage Contracting a call and we can discuss with you how to move forward in renovating your kitchen. We look forward to working with you!
Speak to us today about getting your dream kitchen: (973) 696-0333