If you're considering a bathroom remodel or upgrade, you should think about giving it a more modern look. These days, there are plenty of great ideas and examples of modern bathrooms which provide a sleek and sophisticated look. Check out this guide to some modern bathroom ideas.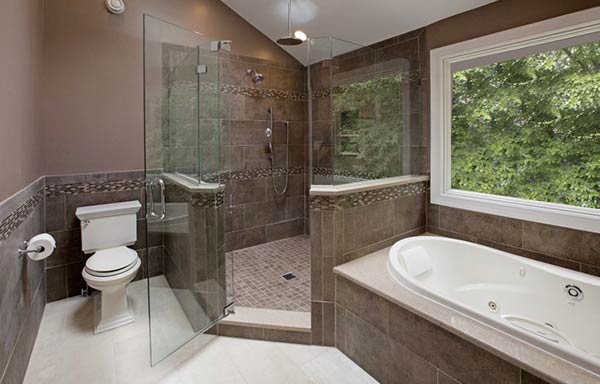 Go for a minimalistic look with wood grain ceramic tiles paired with white walls, shelves, and appliances.
Add inset shelves to a shower to remove clutter and help avoid accidents.
Use a glass and chrome shower partition which is a sharp look and eliminates shower curtains.
Have raw dark stone tiles installed to provide a contemporary upgrade to your bathroom.
A tub and shower combo saves space while still giving you both bathing options.
A sliding rustic barn door makes a nice entryway into your bathroom and can save space.
Use floating or hanging shelves instead of cabinets to open up your space.
Rain showers are growing in popularity while the traditionally bulbous shower heads are not.
Get a big city feel in your shower by using a paned shower divider and white subway wall tiles.
Use monochromatic textured walls to create a rich but minimalistic look.
For a contemporary look choose hexagonal shaped pearl tile floors for a bit of shimmer.
Strategic lighting can be a major upgrade and is available in a variety of styles.
Matte black is a clean and modern look that can be used for faucets, sinks, shower heads, and more.
A tinted glass sink vessel is a classy and stylish look that is easy to clean and available in many colors.
For a modern and streamlined look, choose black hexagon wall tile.
Hide your medicine cabinet by replacing its mirror covering with a piece of art that still opens.
Advantage Contracting can update your sinks, faucets, plumbing fixtures, countertops, flooring, windows, and more. Give us a call today at (973) 696-0333 to learn more or schedule a consultation.