The color of your cabinets is an essential piece to the look and feel of your entire kitchen. If you're considering having your kitchen remodeled, you'll certainly want to update your cabinets. Luckily, kitchen cabinets don't come in only one color. There are a variety of fresh looks to spice up any kitchen. Consider these ten popular kitchen cabinet colors to determine which would look best in your home.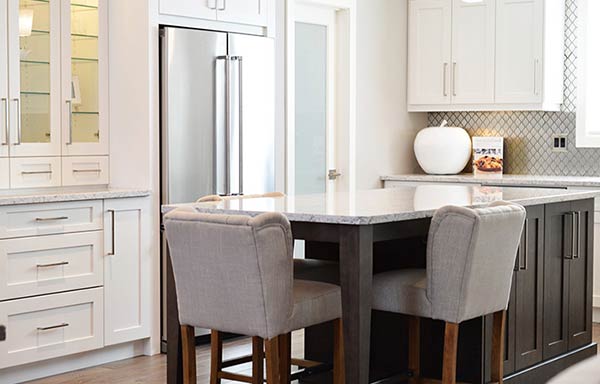 Light Gray – This more traditional color is neutral and is often paired with black or white countertops. A warm gray provides a comfortable, clean, and casual look and feel.
Soft Yellow – This color can add a touch of instant warmth to your kitchen. A buttery yellow goes well with stained wood countertops as well as touches of white.
Ocean Blue – This clean look brings a coastal comfort to the space and provides a color that can be paired well with white or butcher block countertops and any appliances.
Black – Elegant black cabinets add a touch of sophistication to any kitchen and are easily paired with a variety of countertops. Some popularly paired countertops include light colored stone or stained wood.
Orange – A bright orange may seem like too much for your kitchen cabinets, but it can be a great contrast to black countertops and orange pairs well with any shade of gray.
Bright Red – Make a bold statement with bright red kitchen cabinets which blend well with silver, stainless steel appliances and either black or white countertops.
White – A bright white look will never go out of style and provides a clean look which works best with grey, white marble, or butcher block countertops.
Natural Green – A soft green goes well with anything and provides a casual and welcoming feel that can be paired with white or stained wood countertops.
Taupe – This warm blend of gray and brown is a great look for your kitchen cabinets and is a neutral color that can be paired with dark or light appliances and countertops.
Greige – This blend of gray and beige has become more popular in recent years and provides a nice clean, natural look that can be paired with almost anything.
Contact Advantage Contracting today at (973) 696-0333. to learn more about our kitchen remodeling services in Wayne, NJ.