According to Remodeling Magazine, a kitchen remodel remains a top home improvement project, yielding a 56 percent return on a homeowner's investment. A well-designed kitchen also creates a functional and comfortable space within which to work. If you are considering remodeling your kitchen, read on to find out the best ways to maximize your space and create a beautiful, functional kitchen.
Types of Kitchen Layouts
When designing your new kitchen, it is important to first identify the number of walls, the size of your room, and the traffic patterns, and determine the layout of your room and the placement of appliances. The most popular types of kitchen layouts include one-wall, L-shaped, U-shaped, galley, and peninsula kitchens.
One-Wall Kitchen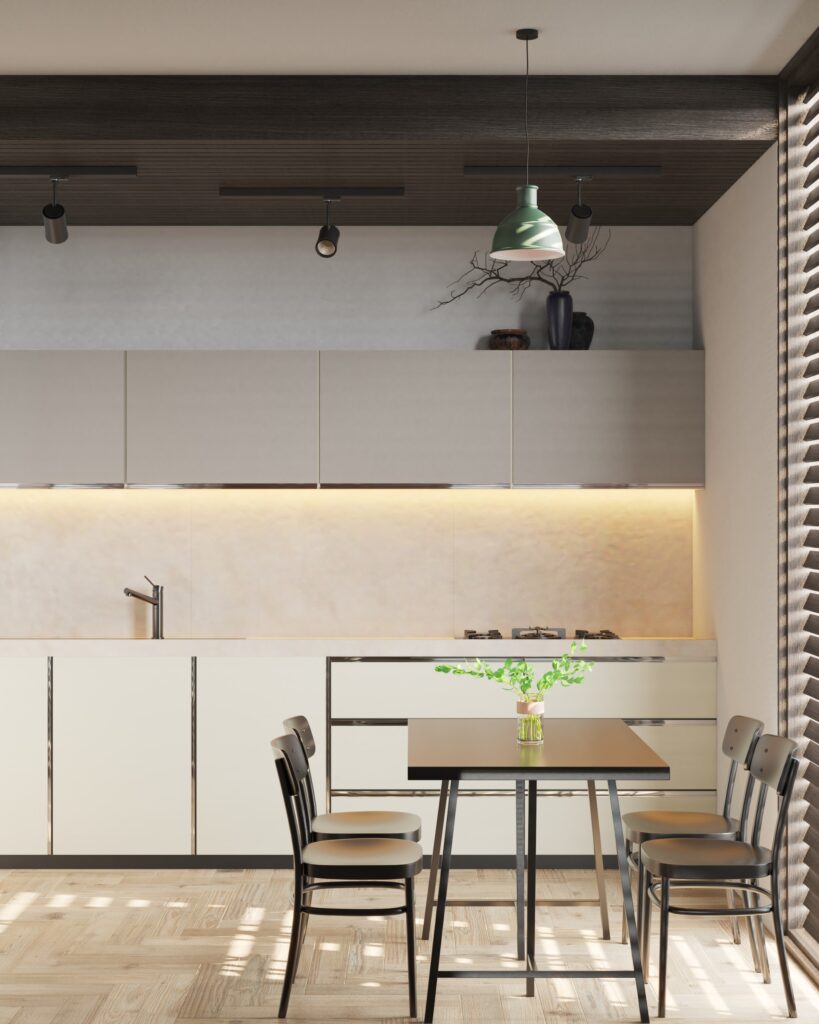 The space-saving one-wall kitchen is typically found in studio apartments and in-law suites. Cabinets and appliances are fixed on a single wall. Where space allows, including a kitchen island in your design will add valuable storage and counter space. An island can transform a one-wall kitchen into a semi-galley kitchen.
Galley Kitchen
A galley or "walk-through" kitchen is the most effective layout for utilizing every square inch of space. It is characterized by two opposite walls or two parallel countertops with a walkway between them. With no corner cabinets, a galley kitchen can be a great budget-friendly design.
L-Shaped Kitchen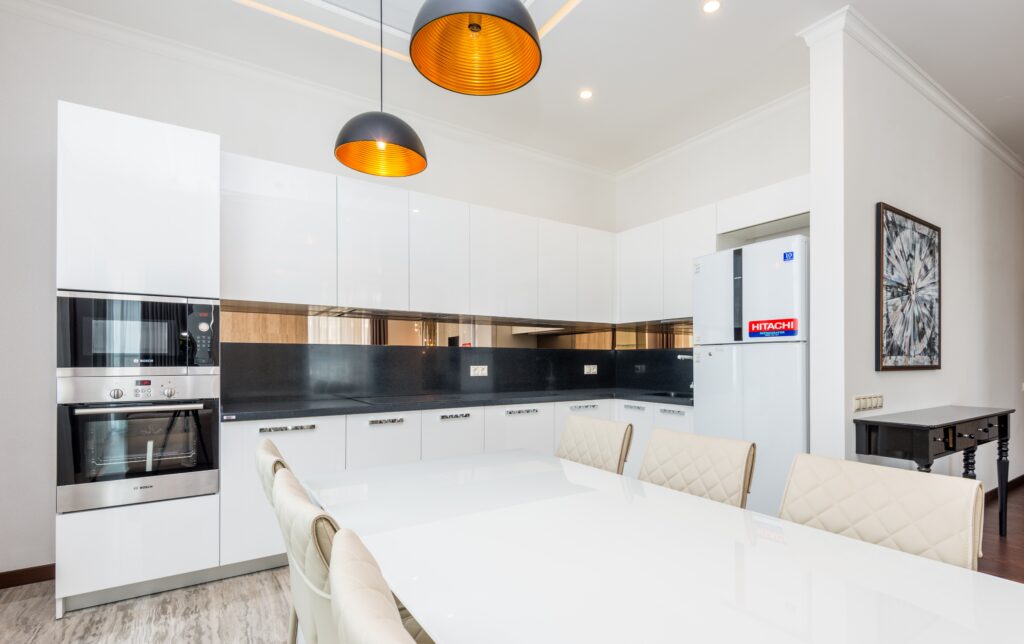 An L-shaped kitchen is the best solution for maximizing corner space, and it's an intelligent design for small to medium-sized kitchens. Two perpendicular walls forming an "L" are the basis of this layout. An L-shaped layout allows for multiple work zones, and adding an island further expands the configuration options. Placing a sink or stovetop on the island will provide the efficiency of a traditional "work triangle." Adding an island to an L-shaped kitchen can also form the third "wall" in a U-shaped kitchen.
U-Shaped Kitchen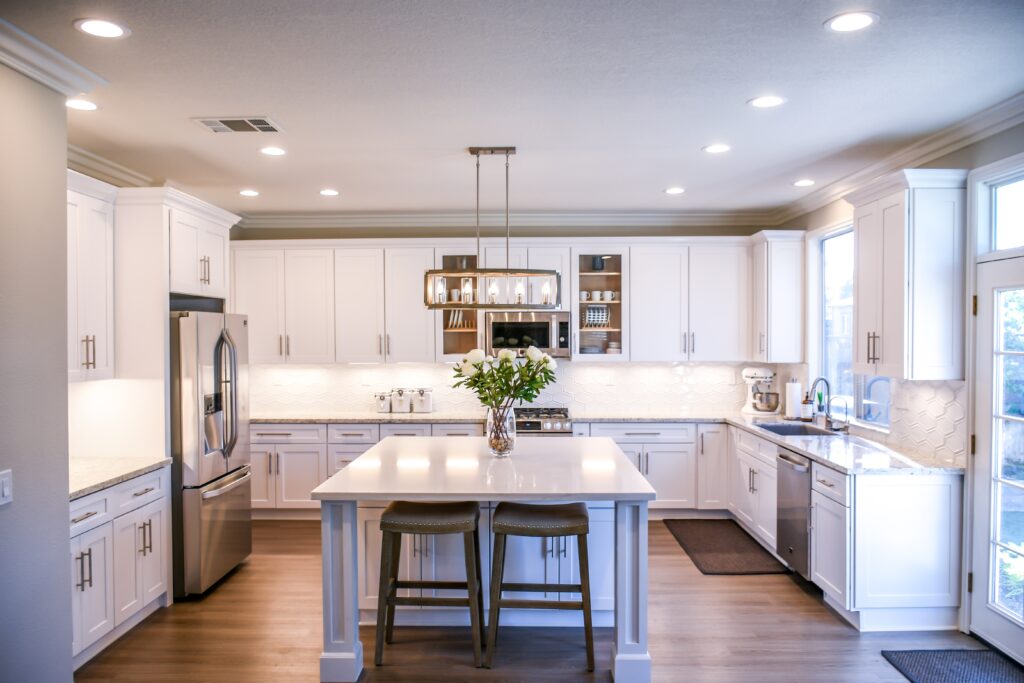 The U-shaped kitchen layout has three walls of cabinets and appliances. This design allows for ideal traffic flow because, unlike a Galley or one-wall kitchen, there is no single pass-through or walkway. It allows for more cooks in the kitchen, and the design possibilities are endless. The addition of an island to this type of layout, again, provides more work surface and storage space, as well as an eating area when stools are added.
Peninsula Kitchen
A peninsula kitchen is an island that's connected perpendicularly to one wall of an L-shaped kitchen, converting an L-shaped layout into a U-shape. Peninsulas essentially offer the same function as islands but allow for more clearance in a kitchen that isn't large enough for a true kitchen island.
Key Takeaways:
A kitchen island can add much-needed work and storage space. An island can transform a one-wall kitchen into a galley style and an L-shaped kitchen into a U-shaped kitchen.
Be mindful of these recommended distances in determining the size and placement of a kitchen island and ensure your kitchen has the necessary clearances to function.
In any of the kitchen layouts described above, the placement of the fridge should almost always be at the end of a run of counters and cabinets so as not to cause an actual interruption to your workspace, as well as a visual interruption to your design.
Need Help Designing or Installing Your Kitchen?
At Advantage Contracting, we can assist you with your perfect kitchen or bathroom remodel. We have been helping homeowners in northern New Jersey for over 25 years. For ideas and inspiration, you can explore these different layouts using our Kitchen Visualizer, or contact us today to schedule a free consultation!