You probably use your kitchen cabinets every single day and you get used to the color scheme you've chosen, even if it's uninspiring. But you don't have to live with boring kitchen cabinets! We're here to help rescue your home with the top kitchen colors 2021 has to offer.
Kitchen Cabinet Design
You have a variety of options when it comes to kitchen cabinet design in 2021. You'll find that tinkering with different styles and types of wood is a perfect place to start. Glass or windowed cabinet doors add dimensions of design space, but what we're really concerned with is the color palette you choose.
You want cabinets that go with the rest of the colors of your kitchen, and you certainly don't want there to be a clash in the most fundamental elements of your design. Your kitchen should be inviting and warm, a place that encourages calm gathering and the desire to eat. Loud colors and contrasts will make it difficult to want to cook in there, much less hang out. So, let's take a look at some of the fresh, new colors to use:
Bold Grey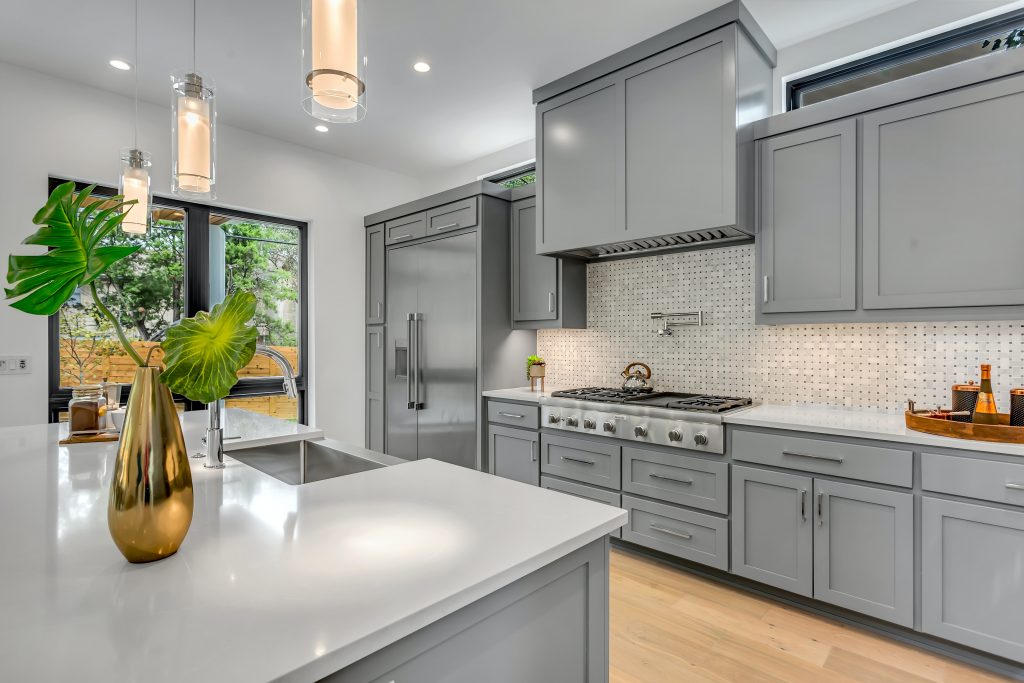 Grey is a perfect neutral color that pairs well with wood finishes and metal alike. Going with a deeper, bolder version makes a statement while not overpowering things in the rest of your kitchen. It's like a well-tailored suit; looks great and never goes out of style.
Black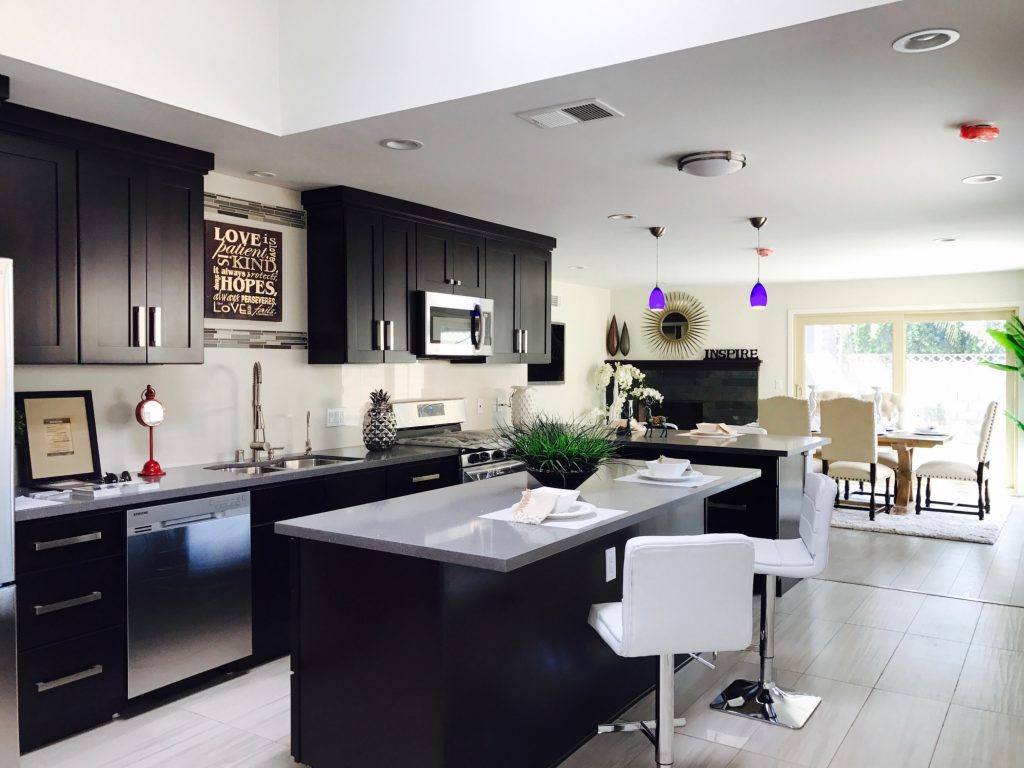 While black seems like it doesn't fit a kitchen, black and white pair well together. Matte black cabinets – even if it's just the trim – look great contrasted to white. Alternating black and white in your fixtures, furniture, and appliances along with your cabinets can make your kitchen pop without being too much.
Light Blue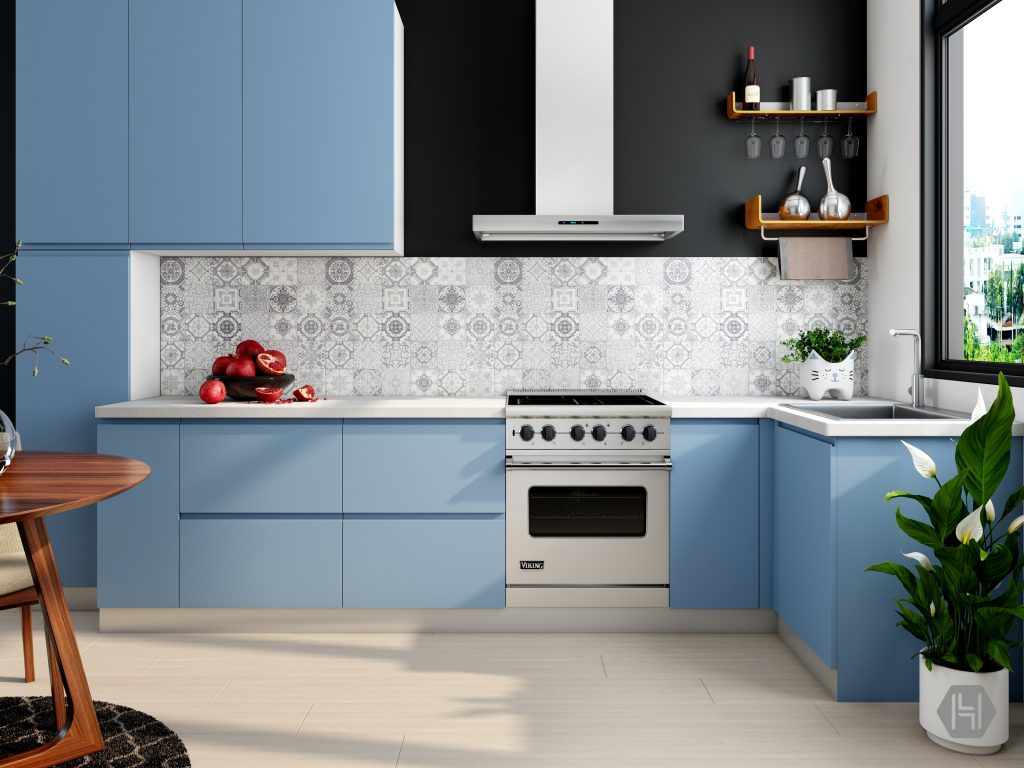 Blue is a color you can get away with on kitchen cabinets if you opt for a softer shade. Modern kitchen colors don't have to strictly be earth tones, but you also don't want to go all-in on pastels. 2021 cabinet color trends allow for soft, inviting blues, giving your kitchen a welcoming vibe.
While we're talking about blues, it's worth noting that a brighter blue can be a powerful, tasteful statement as well. Among primary colors, blue does work fairly well in a kitchen, as long as you avoid dark, royal hues.
Sage Green
Soft green hues are a great bet for a kitchen. They pair well with almost any other color, and earthy tones have been extremely popular the last few years and this trend shows no signs of stopping. You can even pair a light green with other colors, and pastels, to give your kitchen a wonderfully unique look.
Kitchen trends to avoid
As you prepare your remodel, here are some kitchen trends to avoid in 2021 or otherwise:
Farmhouse Cabinets
Farmhouse chic is homey and rustic, but the grooves and styling are out of style. Additionally, the modern look is cleaner and easier to clean. Honestly, less is more.
Busy Space
Too much stuff on your counters makes them look cluttered and messy, even if the "stuff" is the intentional decor. Opt for cleaner, less-cluttered spaces that pair well with sharp, crisp cabinet colors, and your kitchen will look amazing.
Kitchen cabinet installation in New Jersey
If you're getting ready to update your kitchen, cabinetry is a great place to start. Installing new cabinets is an opportunity to add huge amounts of functionality and storage space. It's also a great time to create a new aesthetic that looks and feels amazing, and these are the top kitchen cabinet colors in 2021:
Light blues and bright blues
Black and white (especially on the trim)
Earthy, light greens
Beautiful, cool gray
Contact Advantage Contracting Today!
When you're ready to take the next step towards a brand-new kitchen cabinet situation, give Advantage Contracting a call. Our expert design team can help you create the kitchen of your dreams with a no-obligation evaluation. When you choose Advantage, you can trust us to create a beautiful space you'll enjoy for years to come.