The bathroom is not just for washing up. It's a place to relax in a hot shower or in a steaming bath. It's a staging ground for a night on the town and a home for some of the morning's most important rituals. So, what are some of the hottest small bathroom trends 2020 is bringing us? Let's find out. Scroll below to see all of the latest 2020 bathroom trends!
2020 Interior Design Trends: Bathroom
Bathroom trends to avoid 2020 include organic greens, excessive uses of brown, and anything shocking like red, orange, and the like. Trending bathroom designs this year, you'll find, are austere with a touch of sandstone texture. Think of a beachside spa or natural hot spring. In these places, you find clean, but mildly abrasive surfaces that are sanitary and slip-resistant. This year's most popular 2020 bathroom colors and themes will all follow this motif.
Decor Spillover
One of the most interesting trends we've seen this year is the décor spillover. This is where design elements from adjacent rooms subtly invade the bathroom. It could be a runner or a piece of molding that turns a corner into the bathroom. It could be a piece of shelving or cabinetry that is duplicated in form or style both in the bathroom and nearby. Matching the style of a kitchen sink with that of the bathtub is a great example as well.
Custom Lighting
Relaxing in the bath with a small collection of aromatic candles is a great way to unwind on a Sunday evening. But if you're not excited about cleaning up melted wax or dodging flames with the hem of your bathrobe, custom lighting might do the trick. Cleverly tucked away bathroom lighting accents, dimming fixtures, chandeliers and other custom arrangements are great ways to strike the mood you're looking for whether it's getting set for a night on the town or luxuriating in the tub.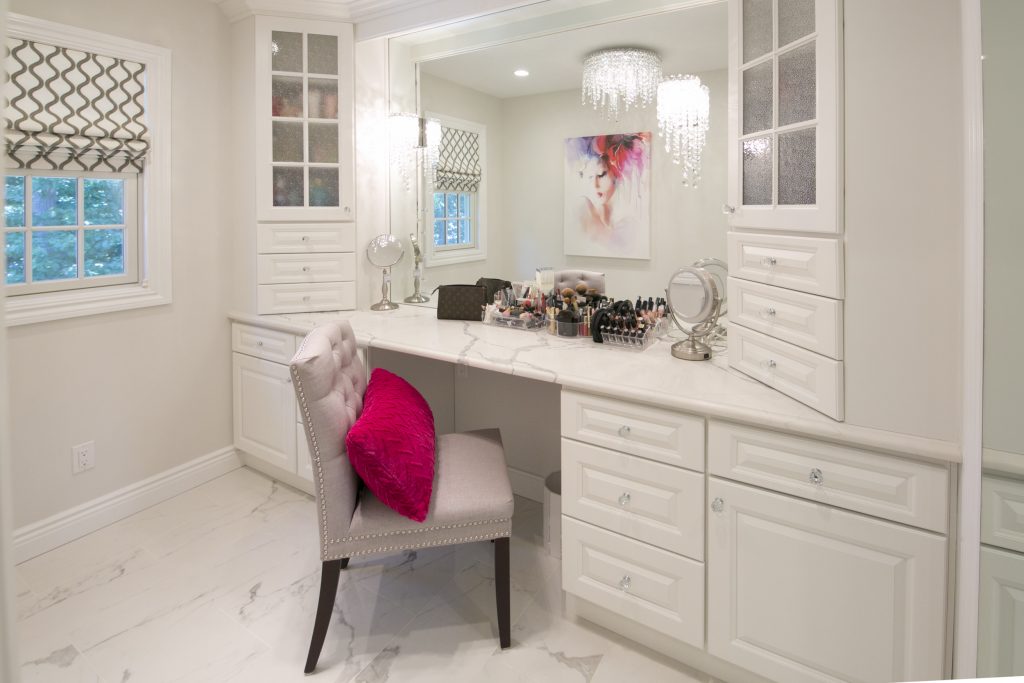 Wallpaper? Wallpaper.
Wallpaper has been on the comeback for several years now, and 2020 is no exception. This trend shows that the tide has turned in favor of more traditional bathroom themes, as wallpaper always brings a touch of the 18th and early 19th century with it. The best thing about wallpaper is the available designs are almost unlimited, and matching paint is easier than ever before. Of course, effective ventilation will be important to keep moisture from gathering behind the paper.
Marble is Forever
Marble is always a great investment for flooring, kitchen countertops, bathrooms, and more. Marble can look sterile but doesn't always have to look that way, especially with all of the attractive organic sediment patterns available. There are dozens of color trends and grain patterns to choose from, and no matter how you use it, it's always an improvement.
Retro Vintage
Retro bathroom designs are classy and full of flair. They are also a great way to incorporate some technology into your bathroom décor. Whether its mood lighting, a cleverly hidden sound system, or a state of the art shower, there are lots of fixtures and features available designed to hearken back to the styles of the 50s, 60s, and 70s.
That Spa Feel
If there's one ideal motif for bathroom décor, it's a spa setting. It's the perfect touch for a well-designed home interior to give you that master suite feeling. If you're into wellness, modeling your bathroom after a spa is right up your alley.
Takeaways
Modern bathroom design is about replicating the day spa atmosphere.
Bathroom flooring surfaces should be gently non-slip for safety and easy cleaning.
Classic textures and even wallpaper are making a comeback- as are retro fixtures.
Bathroom Contractors in NJ
Here at Advantage Contracting, we offer top-of-the-line bathroom renovations. If you're interested in taking your bathroom design from the ordinary to the extraordinary, contact the remodeling professionals at Advantage Contracting today. We'll handle your bathroom remodel from start to finish!